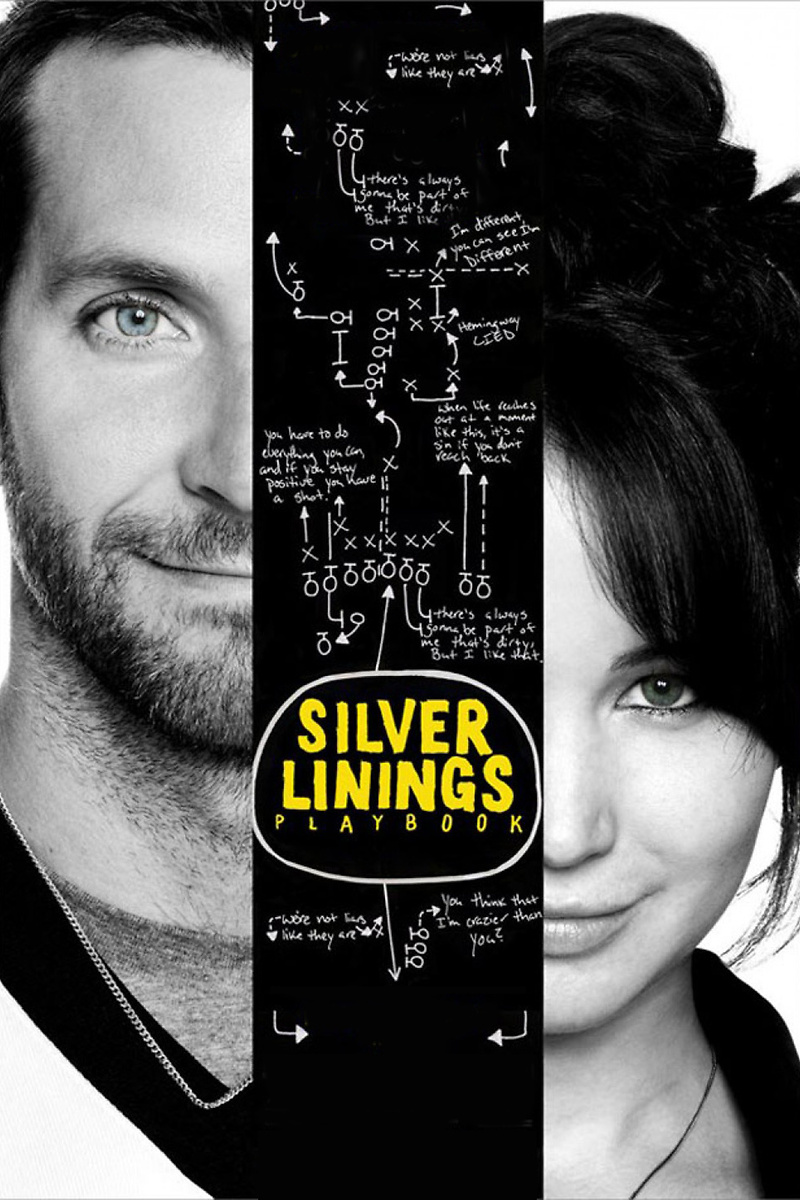 Written by Tim Martin
Edited By Dorrin Gingerich
Pat Solatano (Bradley Cooper) has just returned from an extended stay at a psychiatric hospital. He was sentenced there after discovering his wife was having an affair, and nearly killed her lover. He's since been diagnosed as being bipolar, but none of that matters now. Pat's returning home a brand new guy: he's lost weight, has a new positive outlook on life, and is determined to get his wife back. That will be pretty hard considering she has a restraining order on him. As Pat moves into his parents' home, he's met with a host of other challenges. His OCD Dad, Pat Sr. (Robert De Niro) desperately wants to connect with his son, but can't figure out how beyond the family's obsession with the Philadelphia Eagles. He's even running a shady gambling ring, betting on football games. As Pat attempts to be a nobler person, he befriends Tiffany (Jennifer Lawrence) a depressed young widow with a whole slew of her own problems. Pat becomes her training partner in a upcoming dance competition. Now Pat must determine whether he wants to build this relationship with Tiffany, or with his estranged wife.
What Worked
– Being set in Philly, this movie nailed a few hometown elements. First is the football fever Philadelphia Eagles fans have. Growing up in an Eagles family that lives for football games September through February, this was amusingly familiar. Second is the authentic Italian-American family feel in the Solatanos. The dialogue has the chatty banter and comical harassment you'd expect, and the loyal love between family members doesn't skip any conviction. Actually, the biggest win point for this film is how the characters seem so much like real people! It's a story about dysfunctional people who know they're dysfunctional and earnestly try to correct themselves but don't always know how. They don't want to hurt the ones they love, they want to be the best they can without pills or excuses. Even though neither I nor my family struggle with issues like the Solatanos, I didn't feel like they were freaks or unidentifiable. The character development was superb; there's a masterful balance between showing the relational struggles while not becoming emotionally heavy. Although it's obvious this movie is primarily about Pat and Tiffany's relationship, my favorite part was the chemistry between Pat and his dad. Pat Sr. so badly wants his son to love him and spend time with him, but feels like he failed him long ago and now doesn't know how to relate to him outside of obsessing over the Eagles together. Despite their differences, neither can resist their passion for the team and it becomes a uniting bridge for them.
Standout Performance
- Jennifer Lawrence has become a respectable actress, starring in movies like
The Hunger Games
, Winter's Bone and X Men First Class. While playing Tiffany, Lawrence showcases her versatility as an actress. I was truly amazed at how she brings a full personality to Silver Linings Playbook. Not only can she play the gritty action hero, she's talented with complex, sentimental character too.
What Didn't Work
- There were a few brief scenes of nudity and crude conversation in the film. I didn't feel their effect was worthy of their screen time. A few glancing shots of the actors backs would've sufficed to imply the point "people are naked." Also, there's give or take 70 f-words. I'm not one to usually balk at profanity in movies; I think there are times when it serves a purpose. However there were plenty of instances here that I wondered "Could you really not find a better word?" I still hold to my opinion that excessive profanity will dull your vocabulary. Neither broke the movie for me, but you can see why this isn't a PG-13 rating.
Oscars Nominations
- While Bradley Cooper, Robert De Niro and Jennifer Lawrence are all completely deserving of their Academy Award Nominations, I felt that Jacki Weaver, who plays Pat's mother Dolores, does not deserve her nomination. Don't get me wrong- she wasn't bad in the movie. But her role feels more like a filler character and she never really has a "Oscar moment". In my opinion this was definitely a wasted nomination, especially when there are more deserving actresses out there. (Dorrin would suggest Ann Dowd in
Compliance
, Maggie Smith in The Best Exotic Marigold Hotel, or Marion Cotillard in Rust and Bone.)
Overall
- What I expected from Silver Linings Playbook was a typical drama, full of emotional voyage, shallow romance with drops of scattered humor. Instead I found a refreshingly human story that is genuinely funny and about love, football, family, and second chances.
A quote from the movie -
Tiffany - It can still be a date even if you order Raisin Bran.
So what do you think? Should've Jacki Weaver gotten nominated?